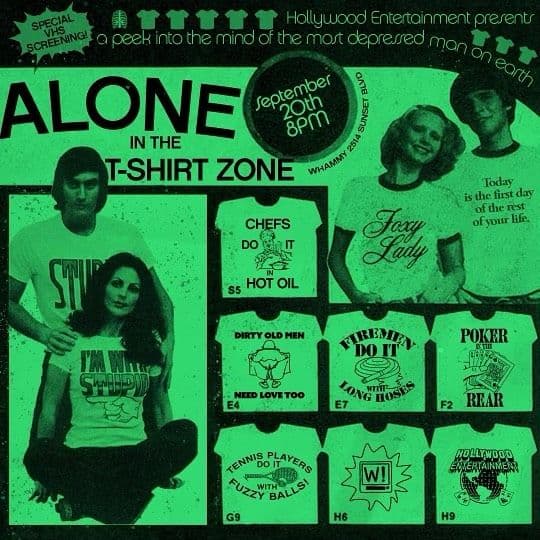 Who is the person behind the design of the T-shirt you are wearing? Do you know? Do you care? Someone was on the other end of that shirt and the graphic on your chest may have been the product of an artist's descent into the deep end of madness... Alone in the T-Shirt Zone, the never-on-disc low budget New World Pictures treasure is one of the only films to accurately depict the art and process of screen printing -- albeit warped through a decaying mind like Eraserhead within a Venice Beach souvenir shop.
Michael (Michael Barrack) is catatonic and being treated in a mental institution while reflecting on his life as an artist for a low-rent T-shirt manufacturer. He once withered away from 9 to 5 making shirts that say "Tennis Players Do It With Fuzzy Balls" or "Chefs Do It In Hot Oil." But the monotony of the printers' relentless grinding gears and a serial killer on the loose targeting women wearing Michael's "Foxy Lady" design pushed him further into the surreal and nightmarish "T-Shirt Zone," a hellish vortex of production and consumption culture.

Join us on 9/20 for a rare VHS screening of this should-be cult classic by prolific The Simpsons director Mike B. Anderson featuring his signature hand-drawn animation and demented practical effects.